Man Or Astroman? Live - Space Surf of the highest order
Posted: September 22, 2017
I'll keep this brief, but here are the highlights: Man or Astroman? is a band that makes crazy good space surf. The Internet Archive is pretty much the best thing in the world. Here's some free music.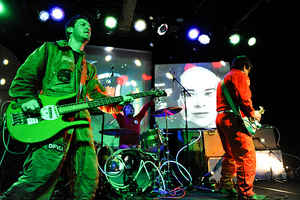 I've been a fan of Man Or AstroMan for years, probably since the release of Defcon 5 4 3 2 1 in 2013. I was a little young to catch them on the first wave, if you'll pardon the pun, when they burst on to the punk scene of the 90s with their clearly surf inspired sci-fi riffs, but I've been a fan for as long as I've known they exist. (Thanks Pandora!)
I make no secret that I love the internet archive. It's collection of public domain, creative commons, and other resources is second to none. I don't often give the live music archive it's due, though. Today, I set out to rectify that. I spent a few hours digging through the virtual crates and I found a veritable cornucopia of killer performances.
The standout for me was probably this collection of live tracks from Man or Astroman?
Embedded above is a performance they gave in 2000 at the BBC.
Here is a performance from the 9:30 Club on 1999-05-23.
There are others of similar recording quality in the archive, along with a handful of audience boots that are also honestly pretty great.
All around, I'm super happy with this find.
(stay tuned tomorrow, I've got a few more recent discoveries to share.)
---
If you enjoyed this post, please consider signing up for my newsletter. or following me on Mastodon.
---
Check out the other stuff I do: Retro Social (Mastodon Instance), Analog Revolution, Space Age Ideas, Of Many Trades. If you want to help me keep making stuff, check out the rewards available from my Patreon.
---
Share on:
[Reddit]
[FaceBook]
[Google+]
[Twitter]